Starting your blog is not a difficult task so if you do not know how to start a blog, then don't worry about it. With the assistance of this article, you can create your blog without any technical experience. But before that let we discuss the reasons of starting the blog.
Why to start a blog?
Why would anyone create and have a blog? That's the one-million dollar question over here. Have you thought about a reason why you want to blog? Here are some reasons which explain that why someone would want to start their blogs.
The first and foremost reason is to make money without going out of home. It is the best way to earn a great amount of money while staying at home. It is low risk, has no issues with an entry into a market, but it requires hard work.
The next reason why people make they blog is to become a published author. That's why people make a blog and easily sell their books and other stuff to people who already know them.
People start a blog because they want to give exposure to their existing business. It is very simple to create and to reach maximum people and with very small cost.
People who love to write and have great writing skills could make a blog, because they want to share their stories. A blog give them an opportunity to use and express their talent. They can build a community and engage people also.
Do you have such reasons which are mentioned above or do you think that you can get any other benefit from a blog? Then you need to continue reading this article. There are a few simple steps which can be very beneficial to the one who wants to start a blog.
Interesting articles on making money:
1. Ways to create passive income.
2. Make money through affiliate marketing.
Here are the six steps which will tell you how to start a blog.
Choose your topic on which you want to start a blog.
The next thing is choosing a platform for blogging.
Select a host.
Choose a domain name.
Start work with Word Press.
Design the blog and use it.
Choose your topic on which you want to start a blog.
You must know that about what thing you are going to write. If you are running your business or you are a part of any organization, you'll need to choose a topic which must be related to the services, products, and details of the company. Your main purpose should be the promotion of your business.
As an individual, you can choose flexible topics. You could select the topics in which your interest is included, and you enjoy writing. Write content which engages a reader and develops an interest. While writing a blog, you need to ensure that you have enough content to write about. The best you can do it to choose a specific niche and develop your authority. Choose an unique angle of writing and share exciting content to the reader.
Choosing a platform for blogging.
After choosing a topic for a blog, the next thing to do, is to choose a platform for blogging. How to start a blog without any platform? If you search about blogging platforms, then you will know about Bloggers, Wix, Weebly, Squarespace, and WordPress. These all are very famous blogging platforms. These all have positive as well as negative aspects. Among them, WordPress is the most popular one (and also the one we're using). It has a large community who share different flexible and functional ideas. While choosing WordPress, you can get two options: a self-hosted WordPress and hosted WordPress.  In hosted WordPress, all blogs are free, but your potential income is limited while in self-hosted WordPress small cost is incurred and you can get more control. Also, your income is not limited.
Select a host.
The next step after choosing a platform is selecting a host. If you choose WordPress, then you should know about its merits. It is software you need to download to your computer, but in this way, your blog's accessibility will be only limited to you only. It will not go live on the internet. If you want to make your blog accessible to all users, then you need server space, and for getting a server space, you need a host or hosting company.
Choose a domain name.
One of the questions I had on how to start a blog is where I had to go to get a domain. A domain is essential without which you cannot work on the internet or how your user will access you.  It is a web address which represents you. Choose an attractive name which is unique, attractive and shareable. You cannot start a blog without a good name. Starting a blog is like starting a business. Make sure to think about it very professional. When I was thinking on how to start a blog, I took a research about finding the right name for my blog. I like to think that "A Happy Lifestyle" is a good name, but I do love all of the feedback you can give me in the comments!
If you have a new domain then quickly register it and Bluehost automatically switch for you, but if you use an existing domain, then you need to contact Bluehost support for connecting the existing domain to a new site. After that, you will see two options on your computer screen: a start building button and a link of Bluehost account. Click the start building button and then it will take you to your new site
Start working with WordPress.
When you start working on WordPress you will see a login button which is in blue. You need to login into your account and start working with WordPress. There is a Bluehost which gives you an option for choosing a theme. When you become familiar with WordPress, you can easily switch to different themes.
Design your blog and use it.
When your website is ready, then the last step is to design a blog.  Before designing your blog, you need to keep in mind some points.
You need to change permalinks.
You need to change the username "Admin" to any other name which is more secure.
If your domain is new, then use your email address to get a login and activate a domain.
To make your domain more secure change it from HTTP to HTTPS.
After setting of the domain, your blog is ready to go.
Socialize your blog.
Do you desire the people to look for your blog, go through it, adore it and share it? You would like it. Well, it is recommended to promote your blog on social media platforms, like Instagram and Pinterest.
But, before doing so, you must follow the tips to increase the social traffic on your blog. If you want to use Pinterest, there is not a maximum amount of the pins each day, however, focus on sharing the high-quality content which may engage the audience, instead of aiming for the irregular set of pins each day. Moreover, don't let your Pinterest blog account to be inactive even when you on vacation – here comes the use of Pinterest scheduler, Tailwind!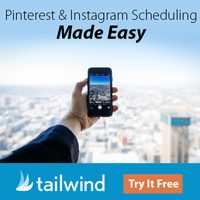 Similarly, if you use Instagram, auto posting is the main feature which you get with Tailwind in 2018. You don't have to wait for Instagram notifications now, just set the schedule of your Instagram Stories and get notification reminders with it too. And, boom! You will get notifications every minute on your account.
When I started with my first blog, back in 2010, I asked my friends and lots of co-bloggers about how to start a blog. Now I'm having my third blog and I keep learning new methods and ways to grow my blog each day again! The journey itself is amazing. I hope this article answered your questions on how to start a blog. If you have a blog, share you blog in the comments of this article, so we can all see how you're putting your blog together. We might even learn from each other!